Tamil Bride Dresses
Bridegroom's dresses.
Bridegroom normally wears Long sleeved shirt and traditional silk "Vesti' , shirt and "Salvai". On the head wears traditional "Thalaip pahai".In the Old days Tamil men grown long hair and If they tie a short cloth around their head (Thalaip pahai) for a work, they will never take it out till they finish that particular job.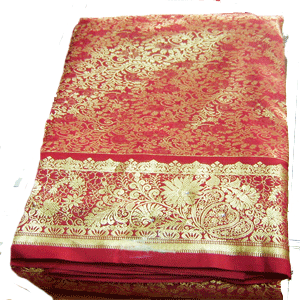 Bridegroom wears "Kadukkan" a single stone ear piece on his pierced ears, if not pierced can wear "Villuk kaddukkan" ( a clip like ornanament).Both these "Kaddukkan and Thalaip pahai" are worn to the bridegroom on an auspicious time by the Elders,mostly by "Thai maman" (mothers brother).
As for the Bridgrooms dresses (Bridal Wear) there are many type for todays Tamil Bridegroom to select and wear.Mostly the Bridegroom dreses are north indian origin like Kurtha - cum - Pyjama, Sherwanis, Punjabi Dresses, Jodhpuri Juti and Western Dresses.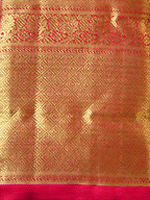 These days Tamil weddings are done in two parts first as traditional and the second part as Official marriage registration.For the Traditional wedding part bridegroom wears "Vesti" and shirt or Indian dress.For the wedding registration ceremony he wears western suit.
Traditional "Vesti Salvai" and shirt. If the Bridegroom selects to wear "vesti salvai" and shirt, the "vesti and salvai" must be a set to match each other in colour anddesign. These silk material are hand woven in Handlooms in Kanchipuram,India.They can be more yellowish color or light yellowish colour with wide boarders or narrow boarders.Borders are made with Zari and woven in Green,Red,Blue and Brown in bright colours.Material for the Shirt which is called as 'National" can be bought in the same store.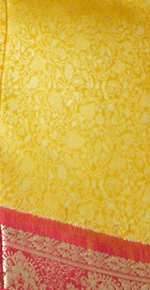 This can be stiched by an expert tailor.The National shirt may contain side pockets and a front pocket.Huff links can be attached if the Bride groom like.The legnth of the silk shirt to the knee from the shoulder may wary according to the wish of the Bridegroom.
Also the side split under the pocket on both sides can be selected for the bridegrooms wish, but the higher more comfort when siiting in the "Manavarai".
Can Make Design boarders on the front opening, shoulders ,edge of the sleeve and on collar if have.Also don't forget to buy a white colour belt to keep the vesti in position.This is very good one for a wedding ceremony which is held on hot days.