Designer clothes As Presents.
If you are going to present designer clothes as wedding presents to the newly married couple, it is not a bad idea. They can be matching track suits, blazers, swim suits, Party dresses and so many things which come in pair for men and women with matching colors and style.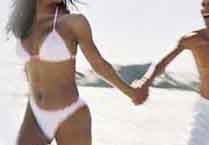 But you must select perfect clothes as the couple may become fat and will not be useful for them in the future. Dresses made with thin fabrics may become worn out within a short period and can make your valuable present to be a useless one.
So you have to take much care in selecting dress that will suit their need and will give them long lasting happiness when wearing your dresses.
As of today every one is interested in buying designer clothes and specially made by the world renowned designers with much reputation in the USA and Europe.
Take care; if you are buying your wedding present from some of the third world countries, plenty boutiques are selling many varieties of fake designer clothes. Not only those sellers provide you with fake ones, but also they charge you high prices that are marked like the original ones.
So buy them in good stores or buy online from reputed suppliers or from the original designer's boutique or in their online stores. Also you can present them with Gift vouchers to a near by boutique in their area where they are living.
If you find out that the newly married couple may like designer clothes as presents don't hesitate to present them with it even if the presents seem little expensive. If you provide them some swim suit, well it will go with their honeymoon trip. Because, most of the newly married couples always head for swimming pools or to the beaches in their honeymoon trips. Like wise dinner suits too are much adored by them as they have to attend many formal dinner parties after their wedding.