Wedding Cakes
Wedding cakes in Sri Lanka means two types of cakes. One is for to use in the wedding ceremony or to use in the official wedding registration. It is also called as structure cake because of the structure it is using. The other one is called as rich cake and it is for serving purpose for the invitees at the wedding ceremony. This is made in to 2" X 3" sizes and well warped and packed in beautiful small gift boxes.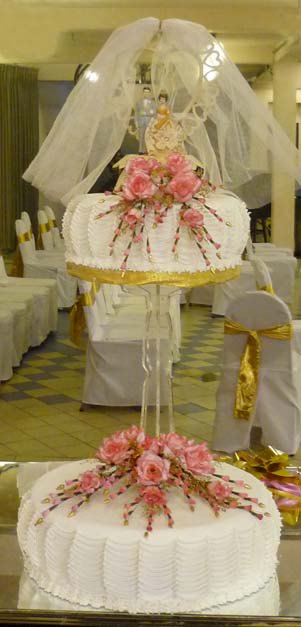 Wedding cakes for the marriage ceremonies are mostly made by the beautician who is contacted to work on the bride for the wedding ceremony. The beauticians when learning the bride make up they lean about the wedding cake making too. The wedding cakes are normally staged on structures with multi tiers. They mostly come with two tier or three tires. There are 7 tiers wedding cakes too available and are very expensive.
The wedding cake used to make with colors to match the brides dress and the sugar flowers on the cakes too are made to match the bride's colors. The base cakes are meant for cutting purpose at the wedding ceremony and that is too will be selected by the cake maker and will be shown to the newly married couple. Most of the upper tier cake portions are made to match and decorate the whole cake set.
The cake maker herself will transport the cake to the venue and will take it back once the ceremony is over. This is because of the valuable cake structure parts.
Cakes made for the wedding ceremony invitees.
When the highlights of the marriage events are over, young girls used to offer the cake pieces carried in a decorated cake baskets to the invites that are in the wedding hall.
These cakes need a good preparation which normally takes days to make it. This is too can be made by the contracted beautician's as they are trained for this kind of cakes. These cakes can be warped in cellophane papers containing different colors of attractive aluminum foils. Or packed in strong tissue papers and placed in small decorative boxes. These decorative cake boxes can purchase from the stationers where you are getting the wedding invitation cards. There are hundreds of box styles with different colors for you to select from. They will print the couple's names on the cake boxes.